Cover story
Hillsborough lawyers:
a new, collaborative way of working
Kim Evans

reports on a definitive display of co-operation, which saw lawyers from six firms and six sets of chambers representing the families of the Hillsborough victims.


About the author
Kim Evans is a paralegal at Old Bailey Solicitors,
London.
The coroner: Question 6: Determination on the unlawful killing issue. 'Are you satisfied, so that you are sure, that those who died in the disaster were unlawfully killed?' Was your answer 'yes' ? Forewoman: It was.*
Where do you start with a case that contains 500,000 pages of documents? To put that amount of documents into context, Mark George QC estimates that a paper version would have filled 1,200 lever-arch files and was potentially a 'recipe for disaster' .
Mark George, one of the two Garden Court North Chambers silks (the other being Pete Weatherby QC) instructed by Elkan Abrahamson, director of Jackson Canter in Liverpool, on behalf of 22 bereaved Hillsborough families, knew that his team had to get its case management system correct from the beginning. A prescient move, bearing in mind that the inquests finished with a final tally of almost 1 million pages.
Building a legal team:
a barrister's view
The starting point was to work out what the structure of their legal team was to be, and then to split the team into seven sections, each with a discrete responsibility:
Audio-visual Looking at all video footage and photographs from the day, and following fans' movements into the ground; onto the terraces; and finally on to the pitch.
Stadium safety Looking at the history of planning applications and the ground's safety certificate.
Police planning Examining the policing of the 1987/1988 semi-finals and the operational order for 1989.
The day's events
Emergency response from 3 pm Examining the responses of police and ambulance staff.
Pathology Examining experts' reports on the cause of each victim's death.
Evidence gathering Also known as 'the cover-up' .
The team, comprising five counsel, three juniors and Mark George and Pete Weatherby, had an upwards reporting system, ie, from team members (paralegals, solicitors and barristers), to the seven teams (above) led by a qualified solicitor senior case officer, to junior counsel and, finally, to leading counsel.
Document management using IT
The initial 500,000 document pages disclosed to the teams had been archived by the Hillsborough Independent Panel, and were held by the Coroner's Office on a case management system known as Lextranet. Pete Weatherby together with Elkan Abrahamson, who had been responsible for putting the teams together, decided that Lextranet's poor search facility made it unsuitable for their needs. They preferred a system known as Opus 2 Magnum, and so persuaded the Home Office that, eventually, time savings would repay the initial investment.
'It was the only way you could case manage, index and cross reference that much documentation. It was a great way to work: very fast and portable, with vast savings on paper, not to mention the backache involved in lugging cases around. We did, though, have to think about working in a completely new way' , said Mark George. About the author Kim Evans is a paralegal at Old Bailey Solicitors, London.
TIMELINE
15 April 1989
96 people killed and 766 injured during the 1988/1989 FA Cup semi- final at the Hillsborough football stadium in Sheffield .
1991
The first inquest jury returns a verdict of accidental death. 1998 Scrutiny of evidence relating to the Hillsborough football stadium disaster by the Rt Hon Lord Justice Stuart-Smith concludes that there was no justification for a new inquiry.
2010
The Hillsborough Independent Panel is formed.
2013
Sir John Goldring is appointed as Assistant Coroner for South Yorkshire (East) and West Yorkshire (West) to conduct the inquests.
31 March 2014
The inquests hearings begin.
26 April 2016
The Goldring inquest finds that the victims were unlawfully killed due to the gross negligence of the Police Service and the Ambulance Service, and the stadium design.
April 2016 Private prosecution launched against South Yorkshire Police Force and West Midlands Police Force.
1990
The Hillsborough stadium disaster 15 April 1989. Inquiry by the Rt Hon Lord Justice Taylor: Final report (' the Taylor Report' ) concludes that a failure of control by South Yorkshire police was the cause of the disaster. The Director of Public Prosecution rules that there was no evidence to justify prosecutions.
2000
A private prosecution against Chief Superintendent David Duckenfield and his deputy, Bernard Murray, fails.
2012
Hillsborough: the report of the Hillsborough Independent Panel confirms the criticisms made in the Taylor Report above. A criminal investigation into the cause of the Hillsborough disaster is ordered and Operation Resolve is formed. Independent Police Complaints Commission investigation begins into police actions in the aftermath of the disaster. The ongoing Hillsborough investigation is the biggest criminal investigation into alleged police misconduct ever conducted in England and Wales.
The Opus 2 Magnum technology meant that the electronic documents disclosed could be cross referenced and linked. Some witnesses had given evidence on several previous occasions, with some key witnesses having given original and amended evidence to the Taylor Inquiry, and there were evidence transcripts from the original inquest and various more recent statements, together with any documents they had produced.
The team worked by preparing a brief in Google Drive, which contained background information on each witness, such as who they were and where they were on the day, and hyperlinks to any evidence linked to them. The brief could then be shared easily, and simultaneously worked on 'live' by adding other team members. As further disclosure was being received continually, this way of working meant that briefs could be updated instead of being replaced by additional paperwork.
In order to protect themselves from being inundated with information, Mark George and Pete Weatherby decided that - especially with so many lawyers in court - only they would undertake advocacy. Mark George said: 'We thought it was a much better way for the jury to focus on who we were and who we represented.'
Clearly there was, he observed, a huge amount of pressure on junior counsel to provide them with the right materials for the witnesses. He explained that each individual team dealing with a topic would create an information spreadsheet, from which the senior case officer would decide what leading counsel needed to know, with too much information being as bad as too little. This, he said, resulted in the potential to 'not see the wood for the trees' .
The brief documents were produced by senior case officers before being populated by the team with the relevant hyperlinked documents. Next, the document was 'quality controlled' by junior counsel, and then provided to Mark George and Pete Weatherby. Mark George said that this 'collaborative' method worked incredibly well.
THE HILLSBOROUGH LAWYERS
Bindmans Hillsborough Team
Birnberg Peirce Hillsborough Team
Butcher & Barlow Hillsborough Team
Broudie Jackson Canter Hillsborough Team
Doughty Street Chambers Hillsborough Team
EAD Solicitors Hillsborough Team
Garden Court Hillsborough Team
Garden Court North Hillsborough Team
1 Gray's Inn Square Hillsborough Team
Harrison Bundey Hillsborough Team
Mansfield Chambers Hillsborough Team
4 Paper Buildings Hillsborough Team
The team held regular planning meetings, which resulted in the system being 'tweaked' as they went along to make it more user-friendly . The intensive court timetable still meant, however, that leading counsel often flew 'by the seat of their pants' .
Building a legal team: a solicitor's view
I asked Elkan Abrahamson how he had chosen his team members. 'We had a plan which required a number of team leaders and a larger number of team members. The leader candidates were asked, during the interview process, how they would prepare for the inquests given the amount of
'We must record our admiration and respect for this determined search for the truth about the causes of the disaster, and why and how it had occurred, which, despite disappointments and set-backs , has continued for nearly a quarter of a century, and simultaneously express our regret that the process has been so unbearably dispiriting and prolonged' (HM Attorney General v (1) HM Coroner of South Yorkshire (West) (2) HM Coroner of West Yorkshire (West) [2012] EWHC 3783 (Admin) para 7, per Lord Judge LCJ). The finding of the first inquest is quashed and a new inquest is ordered. material. They had advance notice of the question, so we could assess their preparation and presentation of the answer. I was also looking for a mix of disciplines, although law graduates featured heavily.'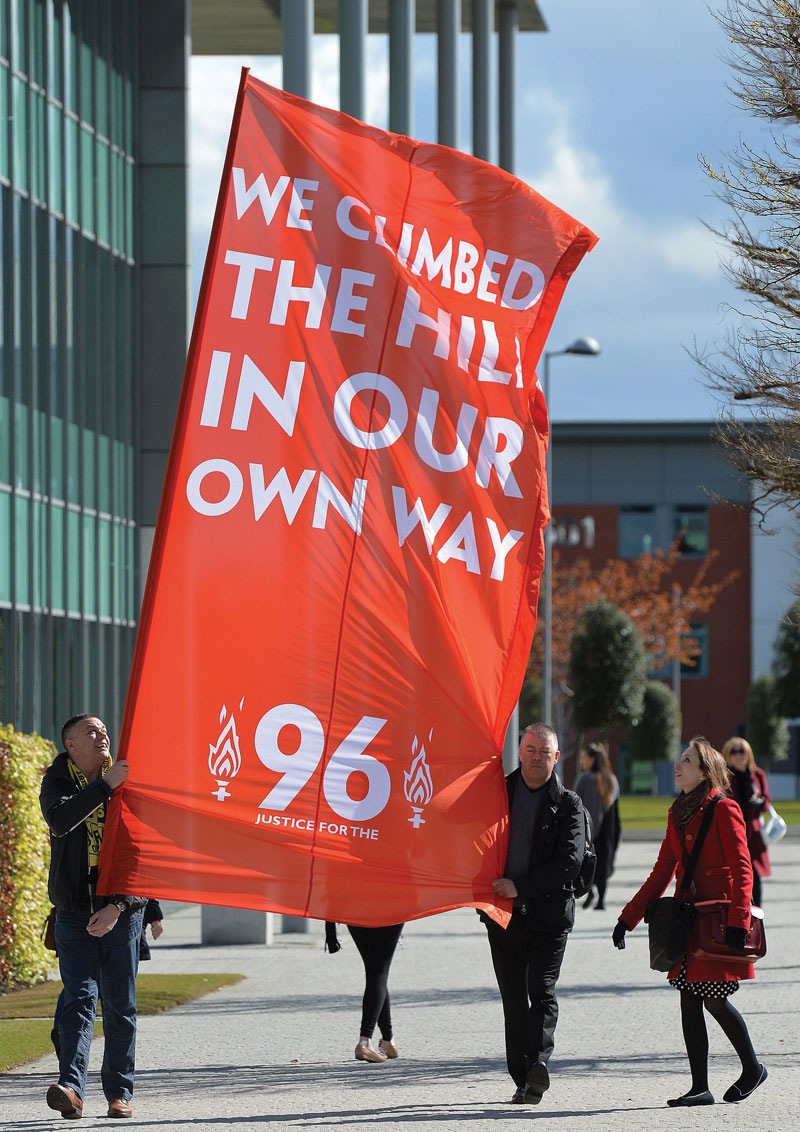 Describing the personal strengths he came to recognise and value during such an intensive enquiry, he said that organisational skills, adaptability and innovation, especially in relation to the technology they were used to, were particularly valued. As to how the team was supported, while counselling was available Elkan Abrahamson thought that the team itself offered the best pastoral care. He added: 'The families both supported us, and I hope were supported by us.'
He managed to achieve his goal of ensuring that the extra 30 staff taken on were absorbed into the firm or were able to move on to a job elsewhere. He said: 'The people we took on were highly talented and remain - including those who have moved on within the firm - a great credit to us.'
Views of a legal team member
One of those people is Sophie Bradbury, who was recruited from the volunteer law clinic at Liverpool University while in the final year of her law degree. Originally, Sophie thought that she was going to be helping out for a couple of weeks; however, once assigned to the pathology team as a case officer, she realised the enormity and importance of the case: 'not wanting to put a foot wrong' made her feel quite nervous. Sophie is very proud of the team's achievements, and has been inspired by the families and the people with whom she worked. When the verdicts were announced and the team heard the result, they had 'cried and hugged each other' . The team had felt overwhelming relief for the families: getting to the point of hearing that their loved ones had been unlawfully killed had taken over their whole lives.
The emotional toll
As to the emotional effect the case had had on the legal teams, Mark George said that while it was depressing and upsetting having endlessly to look at dreadful photos and footage, it was very important for the families to know what had happened to their loved ones: 'It was a key question for the families: how did they die? It was personal: they were 'our families' , and we became friends.' While Mark George, as a criminal lawyer, felt that he was able to cope with such upsetting material, he realised that other team members may have been less experienced in being able to deal with this; however, no one had ever raised it as an issue. He observed that, over the years, perhaps not enough importance had been given to lawyers' or - for that matter – juries' welfare and wellbeing in such cases. He added that having to look at video footage and photographs from the day: 'They were young, vibrant people 20 minutes ago, and now they are dead' , spurred him on to fight against the injustice. Interestingly, each senior case officer was assigned to a family as a liaison officer, with junior counsel each responsible for seven or eight families. Having to talk to a victim's parents about their child was desperately sad, and some families had attended every day of the inquests.
A parent's view
Barry Devonside whose son, Christopher, died at Hillsborough was also at the match, although he was watching from another part of the ground. I asked Barry Devonside about his experience of being supported by a family liaison officer. Barry Devonside told me: 'Our [first] legal team at the 1990 Popper inquest fought valiantly, but they were fighting with their arms tied behind their backs: there was no disclosure in those days and they had no decent back up team.'
He said that the team that Elkan Abrahamson put together were brilliant, and still are to this day. For Barry Devonside, the initiative of a family liaison officer had been extremely important, providing the confidence of knowing that his family could ring her at any time, and that she would 'jump through hoops' to look after them. He said that he had a feeling of total belief that the team's dedicated fight for the families would not let them down.
The verdict
Mark George and his team feel a huge sense of relief at the result, which he described as being important to the country as a whole: 'I was very aware this was the families' last chance They had been desperately badly treated by the police and the justice system. Overwhelmingly, those who died were young, and by the time of the inquest their parents were getting older; there was huge pressure to get the right result for the family as there would be no chance of a further inquest.
The Hillsborough legal teams that acted for the families of 96 Hillsborough victims won the award for Outstanding Achievement at the 2016 Legal Aid Lawyer of the Year awards, organised by the Legal Aid Practitioners Group (LAPG) (see page 12 of this issue). At the presentation ceremony, LAPG co-chairperson Jenny Beck described the Hillsborough inquests as 'the most significant legal case in a generation' .
'On the day of the tragedy, before 6 pm, less than three hours after events unfolded, police were looking for evidence to use against the fans such as photographing discarded alcohol cans and bottles.
Mark George also felt that it was really important to re-emphasise accountability: 'A terrible injustice had been done to these completely and utterly innocent families. That injustice needed to be righted. We needed to bring the police, the club, the Ambulance Service, the engineers, and the local authority responsible for issuing the safety certificate, all to account in a way that hadn't happened before.'
'The police used the first inquest to right what they thought was a wrong - the findings of the Taylor Inquiry that the police were entirely to blame for the disaster - and they went into 'classic defensive mode' .'
Mark George sees the outcome as one of accountability. He said that senior police officers on the day had failed miserably, and this inquest was about making them face their failings, holding them to account and, at the same time, bringing a degree of justice to the families. Not only were those who died victims: those who had survived were living with the idea that somehow they were responsible for the deaths of their friends, and that the result was a huge vindication for them too. 'Ultimately, it shows that we are prepared in this country to pursue injustices that go back a long way.'
Barry Devonside described the harrowing account of his inhumane treatment by police during the search for his son, and how the 'farcical' verdict from the first inquest left him feeling that he – and his son's memory – were truly the victims of an establishment-wide conspiracy: an anger which burns deeply to this day. After talking to Barry Devonside, I feel grateful that he has the small consolation of knowing that the legal profession has, at its very highest levels, the will and potential to 'do right and fear no one' in the fight to redress such terrible injustice: long may it continue to do so.
*Excerpt from transcript of Hillsborough Inquests, morning hearing, Tuesday 26 April 2016, AM session, available here. The Hillsborough Inquests – www.hillsboroughinquests.independent.gov.uk